Interclub Competition
Interclub Competition
HARRA Individual and Club Competitions
FALL 2021 UPDATE:
The
HARRA Fall Series
races are all scheduled to be live events. HARRA will be awarding
Ironfoot
Awards
to everyone that completes the Fall Series (runs all races or runs all but one and volunteers at that race), as well as
Runner of the Season (RotS)
cash awards and
Interclub Team and Club Awards
. If the COVID-19 situation in our area changes making large gatherings inadvisable according to local health guidelines, we will revisit this issue.
HARRA conducts a fall and spring race series for all HARRA members and their affiliated clubs. Each series consists of races in which members score valuable points for their self and their club and team. Each member's points are used for individual competition leading to the Runner of the Season awards. Beginning in the 2017-2018 running year, Team and Club Championships are awarded for the entire year, not separately for Fall and Spring. No club affiliation is required for the individual competition.
Members who have designated an affiliated club also score points for their club and for the club team on which they run. Relays count only for Club and Team competition; they are not considered for individual competition.
Club and Team Competition point totals are kept in the Open, Masters, Veterans, Women's, Masters Women's, and Veterans Women's Divisions.
If you have any questions about the series, please follow the link for Rules and Eligibility Requirements.
Final Standings for Fall 2021
Team Standings
Note: Due to the Coronavirus Pandemic, the 2020 Spring Season only includes the Aramco Half Marathon and the Law Week 8K. Interclub Competitions were not held for the 2020-2021 Running Year. (Running Year = July 1, 2020 thru June 31, 2021)
Champions of the HARRA Interclub Competitions for the 2019-2020 Running Year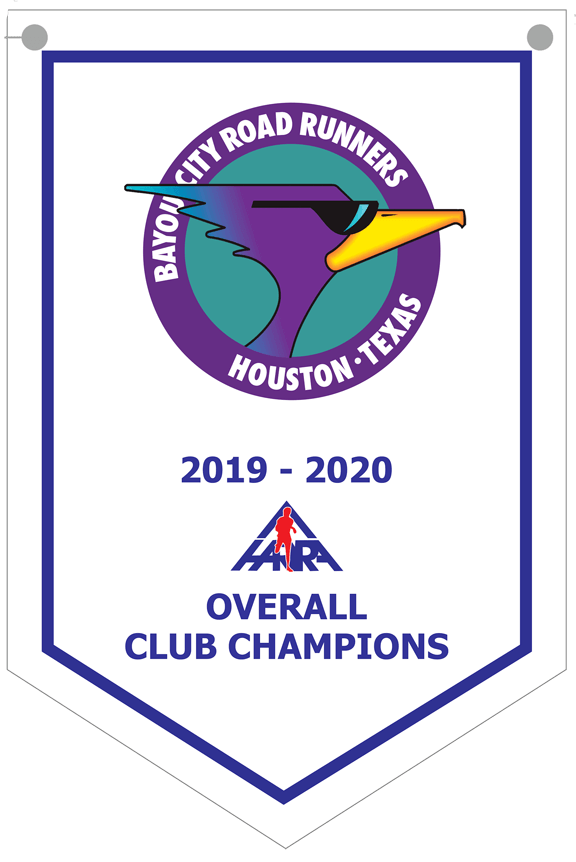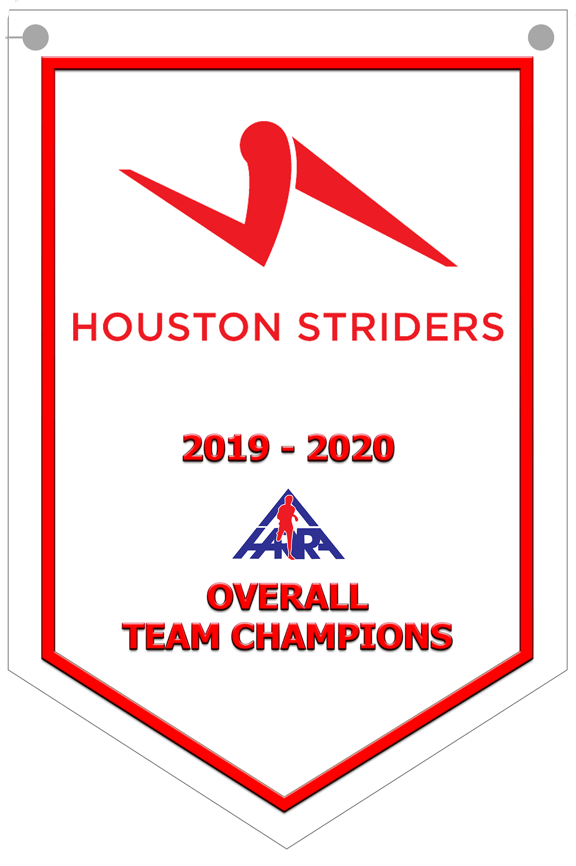 The Bayou City Road Runners (BCRR) took the Overall Club Championship and the Houston Striders (HS) took the Overall Team Championship. A repeat from last year for both clubs.
BCRR was well ahead of the 2nd place Striders in the Club Competition (450 vs 420), but lost the Team Competition to the Striders by 1 point (338 vs 339)! Many other clubs were competitive and gave these 2 clubs a run for their money. Congratulations all!
AGE GROUP DIVISION CHAMPIONS:
Veteran Women Club and Team Champions: Bayou City Road Runners
Masters Women Club and Team Champions: Bay Area Running Club
Open Women Club and Team Champions: Houston Striders
Veterans Club and Team Champions: Houston Striders
Masters Club and Team Champions: Houston Striders
Open Club and Team Champions: Houston Striders
Club Standings for Past Seasons