Bayou City Classic 10k
Bayou City Classic 10k
INAUGURAL BAYOU CITY CLASSIC AMBASSADOR PROGRAM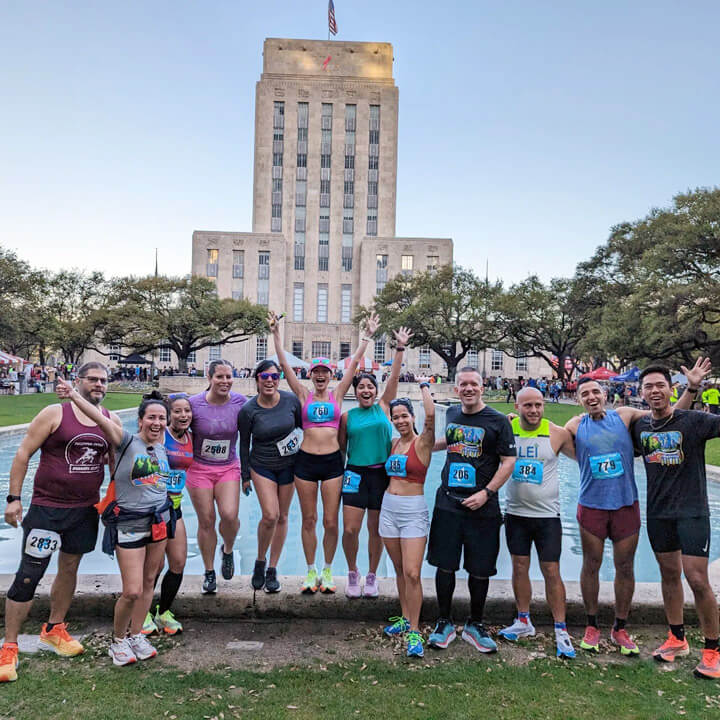 MEMBERS OF THE INAUGURAL CLASS OF BAYOU CITY CLASSIC RACE AMBASSADORS AT THE 2023 EVENT!
The Bayou City Classic 10K & 5K is the only race owned and organized by the volunteers of HARRA. We launched our race ambassador program for the 2023 event that was held March 4, 2023. Through a competitive process, 18 individuals were selected to represent the race and help spread the word through social media, personal connections with the running community, and organized group runs. Ambassadors also participated in popup runs together with our presenting sponsor lululemon. Their collective efforts brought new energy and helped introduce new participants to our race, which we argue is the best running event in town!
THE 2023 BAYOU CITY CLASSIC AMBASSADORS:
Georgine Abeyta, Judith Albarran, Sarah Alfaro, Jenn Antonik, Rodel Allen Enderez, Grace Enriquez, Frank Gibbons, Hayden Lightfoot, Rudy Lopez, Ellie Minjarez, Caro Muriel, Julie Nguyen, Pattie Pena, Mimi Robertson, Duval Ruiz, Fela Sandoval, Sophie Schott, Karina Yonekawa-Blest
Thank you all!
ARE YOU AMBASSADOR MATERIAL? WE WILL BEGIN RECRUITING FOR THE 2024 RACE SOON!

If you are someone who loves our race and finds joy in helping others reach their fitness goals, we want you to be the Bayou City Classic 10k & 5k Ambassador.


We are not looking for people who check all the boxes. Anyone can be an ambassador! Social media savvy, social media dinosaur, slow, fast, young, old, near Houston or from the land of far far away. We want people that can help promote our race via various online tools and/or to their own local running community.


How to Participate?
– Application link for 2024 race will be posted soon!
– Applicants will be notified on an ongoing basis.
– Ambassadors will be announced via our social media.

Ambassador Perks:
-A complimentary registration for the 10k or 5k.
-Bayou City Classic gear.
-Your bio, photo, and social media links on our website and race e-guide.
-Feature in our social media posts.
-Potential of additional swag/gifts from our sponsors.

Ambassador Expectations:
-Word of mouth! Tell your friends, family, running groups, and co-workers about the race.
-Participate, co-host, and/or lead at least one or more of our pop-up events.
-Use online tools to promote the race or your running journey. Be creative and fun to inspire and motivate your friends and fellow runners. Use the event hashtags on your social media posts.
-Race weekend support, with a minimum of 4-hour shifts.
-Race feedback to help us make this a better event for our running community.

Extra points if you enjoy running in costume or appreciate people who do!
About the Bayou City Classic:
The Bayou City Classic 10k is Houston's premier 10k race and walk! The Bayou City Classic 10k has been a Houston tradition for more than 40 years and attracts more than 2,000 runners, walkers, and volunteers each year. The Bayou City Classic 5k Fun Run & Walk was added in 2012 for more family fun! The event also includes our signature "centipede" contests.
The Bayou City Classic is a family-friendly, all-inclusive event. We have recognized athletes in our Wheel Chair Division for many years and welcome all challenged athletes to join us. We invite EVERYONE to participate. Terrific post race party! Family Friendly Fun!
Why we put on this event:
Proceeds from the Bayou City Classic go toward helping maintain and develop trails for running and walking in our city parks. The trails are available to anyone who lives in or visits Houston looking for a place to exercise or find a green haven away from the hustle and bustle of Houston's big city life. Help preserve the trees! We have donated over $220,000 for the Parks over the past eight years alone to the Houston Parks & Recreation Department.
Click to visit Bayou City Classic site
---